Elektroimportøren and Datek collaborates to help people save energy and money
Datek Smart Home has developed Eva Smart Power, a service that automates power management and makes it easy to take control of the power consumption in your home. Now, the retailer Elektroimportøren is offering starter kits in all their stores across the country.
A year ago we entered into a partnership with Elektroimportøren. Smart Home products under our brandname Eva Smart Home were to be found in Elektroimportøren's 24 stores across the country, and the online store from the start of 2022.
Now we are taking the next step together to help people use less energy and reduce electricity costs in a simple way.
With the starter packages offered in Elektroimportøren's stores, you can quickly and easily start saving money on electricity, without needing to know anything about electricity prices or smart houses, says Harald Aarvig, Senior Product Manager Strømstyring, Datek Smart Home

The starter kit contains everything you need to control the water heater, charge the electric car and heat the house during the cheapest hours of the day. This will give a good saving effect. With the starter kit, you also get access to the service Eva Smart Power free of charge for 30 days. This service automates energy consumption during the cheapest hours of the day, and at the same time ensures that you stay within your step for online rent and avoid overloading the main fuse. This will give you an extra good saving effect!
The power management package qualifies to apply for support from Enova, provided it is installed by professionals. The electrician service SpotOn offers installation of the starter packages at a fixed price, so that you can easily get started and can apply for Enova support.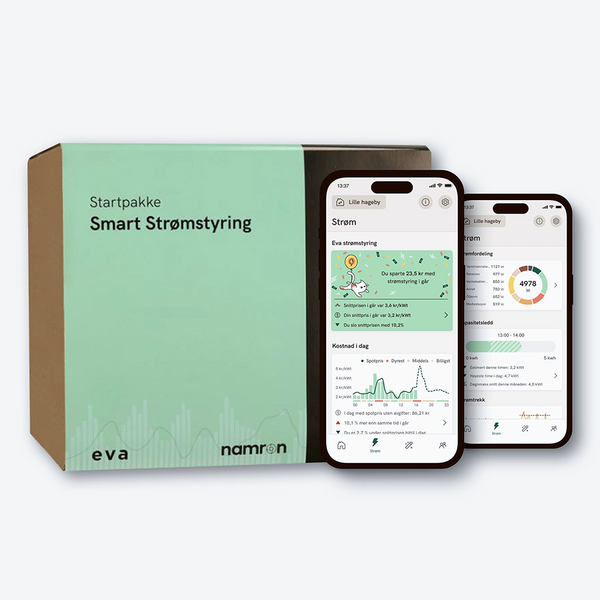 In the starter packs, which you can buy exclusively at Elektroimportøren, you get what you need to get a full overview of your own electricity consumption. In that way you can use the potential for savings where it has the greatest effect, namely heating your house and hot water. At the same time, you can add components for larger households to get an even greater effect. Visit our warehouses, or read more at Elektroimportoren.no for more information. And we are happy to help you through our installation service SpotOn, says Pål Hefre, Category Manager, Elektromiportøren.
About Elektroimportøren

The retailer Elektroimportøren supplies a wide range of electrical articles and installation materials to the professional user and to the individual consumer. Their suppliers are recognized brand suppliers and are the foremost in their field. The company was founded in 1994 and now has 24 stores across Norway, in addition to an online store.