Two Norwegian technology companies collaborates to conquer the smart home market
CTM Lyng and Datek are now entering into a collaboration agreement that will make products from CTM Lyng smart.
Millions of new products
For a number of years, we have developed and delivered complete smart home ecosystems that include backend, app, hub and various wireless sensors. Hub and sensors communicate using Zigbee, which is the most widely used wireless protocol in this segment. CTM Lyng and Datek are now entering into a collaboration agreement that will make CTM Lyng's mTouch® Home product series smart with the Zigbee protocol.
We will contribute to upgrade CTM Lyng's entire wireless product portfolio with this standard, which means that millions of new Zigbee products will be produced for the Nordic market in the coming years. Thermostats, dimmers, cooker monitors and automatic water shut-off are included in the products to be made smart. The development work is underway, and already this fall, CTM Lyng will offer the products to its customers.
– We have a strategy of collaborating with leading suppliers who can add value to the offering to customers within smart homes. CTM Lyng is a recognized manufacturer of high-quality products that are now available for smart home solutions based on ZigBee, this benefits both CTM's and Datek's customers, as well as the market in general, says CEO of Datek, Anders Westgaard.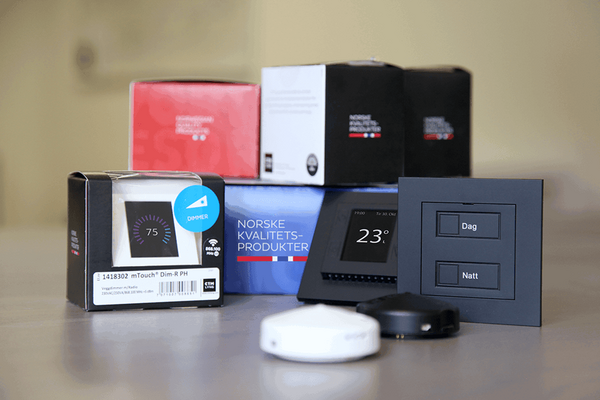 Norwegian collaboration

This unique collaboration between two Norwegian technology companies will lead to a strengthened market position for both companies both together and individually. The collaboration also means that the companies' solutions and products will form the most complete smart home system offered on the market today. Everything, both electronics and software, has been developed in Norway. With Datek's smart house solution, Eva Smart Home, you will be able to control all Datek, CTM Lyng and other Zigbee devices. The products in the Eva Smart Home series have been designed in collaboration with Eker Design.
– The fact that we have chosen Datek as a collaboration partner, and ZigBee as technology in our products is an important signal that we have great ambitions in the years ahead. We both hope and believe that Norwegian consumers will be concerned about where the lighting and heating control actually comes from, says CEO of CTM Lyng, Terje Lillemo.