CTM Lyng AS
Smart solutions for privat homes and the professionals.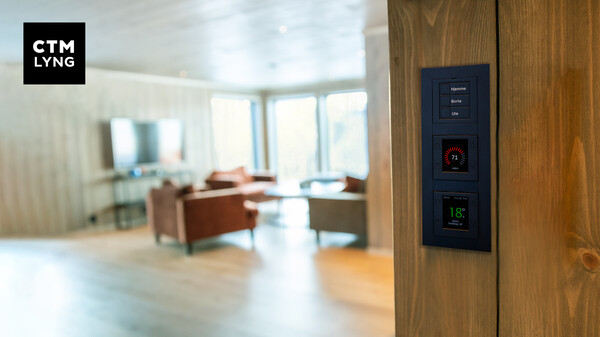 CTM Lyng AS
CTM Lyng AS is one of Norway's leading manufacturer and supplier of home security products, Welfare technology, Energy saving, as well as lighting and heat management, for all types of buildings, known under the brands mKomfy®, Aqua Xpress®, Microsafe®, Centrol®, and mTouch® Home.

CTM LYNG has developed and produced solutions for both the private and professional market. They offer a wide range of products within the smart home market, like lighting and heating control, stove monitoring and valve control. Today's products are based on sub-GHz radio. To be able to take part of a larger ecosystem with its products, CTM LYNG wanted to switch from sub-GHz radio to Zigbee (2.4GHz) in all its domestic products. Datek Smart Home and Datek Next have extensive experience with Zigbee as a radio standard, since all our products for the smart home market are based on Zigbee. Datek Next was chosen as a partner by CTM LYNG to help upgrade their entire product portfolio (14 products) to support Zigbee, which is a preferred interface for many of the major manufacturers like IKEA, Philips, Amazon, Yale , etc.
Needs
Part of our assignment was to develop 2 radio modules which could be mounted on the circuit boards depending on the type of product.
CTM LYNG needed both hardware and software developers to upgrade their product range to support Zigbee.

About the solution
CTM Lyng`s product range consists of various sockets, thermostat, dimmers, motion sensors, stove guard, valve control, saving switch, astrour and solution for notification if the fire alarm goes off. A fairly complete range of products that make it possible to control all lighting and home heating for private homes of all sizes, as well as security products for monitoring the stove and water supply in the event of an accident and a water leak in the home. The solution can be programmed so that heat and light are automatically adapted to the user's wishes for comfort and of cours power saving.

Technology
Zigbee 3.0

Simplicity Studio (C/C++)

Altium 365

Silabs MG13/MG21/22-circuits

MG21/MG22-radio modules
The result
The products will be completed during Q1 2022 and launched continuously, but with the current component situation, it is crucial for the launch plans that CTM LYNG has predictability in access to the critical Zigbee components in its products.
Don't hesitate to contact us if you want to know more!
Per Berg Managing Director Next AS